Today we have revealed plans for our inaugural Knox-Johnston Cup, a new addition to our iconic races offering, taking place on 17-18 September 2022. 
The Knox-Johnston Cup, named in honour of Sir Robin Knox-Johnston is a brand new feature in our calendar and designed to put the fun back into competitive racing. It's an exciting mashup of part of the iconic Round The Island Race route with the added thrill of a take on the Clipper Race's tactical features; a Scoring Gate, a Sprint, and the Joker Card. 
The race aims to provide some seriously fast, tactical and competitive racing whilst focusing on reigniting the social side of yacht racing.
Record breaker, Sir Robin Knox-Johnston, who was the first person to sail solo and non-stop around the world, said: "Over the years, yacht racing has become far more serious than it ever used to be. As a sport and an industry, the fun après-racing scene has diminished and as a result fewer people are being attracted to yacht racing. 
"By introducing the Knox-Johnston Cup, we are going back to the great days of yacht racing, where there was a lot of socialising that went hand-in-hand with highly competitive racing. The importance of the social side of yacht racing shouldn't be underestimated, it plays a significant role in attracting people to the sport and I still meet some of these people I socialised with after racing some 60 years on!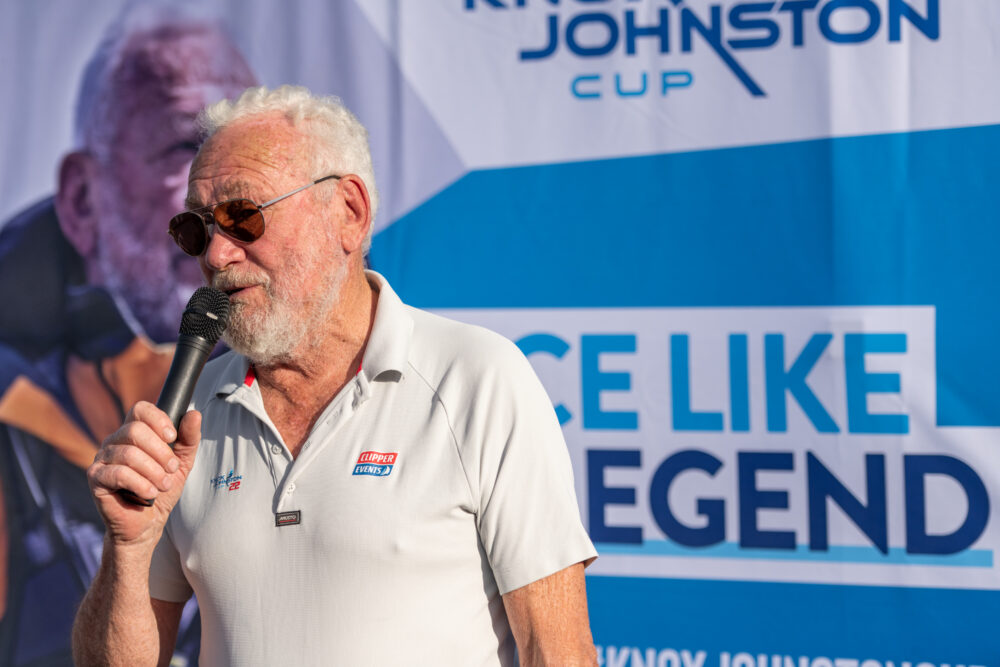 "In addition, with no previous sailing experience required to take part in our new event, and a practical introduction to the yachts given on the first day, we are able to provide an opportunity for a wider audience to experience the thrill of competitive sailing on a Clipper Race yacht."
Unlike any other racing event, the Knox-Johnston Cup, which follows the classic anti-clockwise route around the Isle of Wight, introduces some of the Clipper Race's tactical features: 
A Scoring Gate

– A line between two virtual marks which a team can choose to pass through. The first three teams who cross the gate gain bonus race points (three for first, two for second and one for third).

A Sprint

– A time trial between two lines of longitude or two lines of latitude. The highest points will be scored by the fastest teams between these two points – regardless of race position. 

The Joker Card

– The 'Joker' means that all points gained from the team's finishing position at the end of the nominated leg of the race will be doubled (the Knox-Johnston Cup will be divided into three 'legs').
Led by a professional Clipper Race Skipper, each of the teams can compete for bonus race points in this fast, day-long race. With extra race points at stake, it's not just line honours that the teams are competing for, they'll also need to weigh up each of the tactical features to out-race the competition. 
Sir Robin added: "The Knox-Johnston Cup provides competitors with a circular route, so they'll experience every aspect of sailing in a day – it's quick, short, competitive and fun! One of the big features is the tides – they will come into play and will influence the entire race, but it won't be as straightforward as that, with so many bonus points available from the tactical features."
The Clipper Race fleet will be made up of Clipper 70s and Clipper 68s – a rare opportunity to see these unique design yachts racing alongside each other in UK waters. 
Sir Robin said: "Although the tactical elements will be fascinating to watch, what I look forward to most is seeing the teams come together – whether they are corporate groups, friends, or Clipper Race Alumni."
The weekend-long programme includes a Skipper and boat allocation draw followed by a day of on the water training. Timings are subject to change but will roughly follow:
Friday 16 September 

1800 – there is the option to arrive from 1800 and stay on board

Saturday 17 September

0800    Welcome and team allocation with breakfast followed by a safety brief

0930 Slip lines, sail training, lunch on board, tactical training
1800 Sundowners
1900 Dinner with team strategy and a keynote speech by Sir Robin

Sunday 19 September

0600

Breakfast on board and slip lines

0730

Knox-Johnston Cup Start Line

1500

First yachts to start finishing

1600

Alongside

1700

Prizegiving and celebrations

1800

Departure
The Knox-Johnston Cup is accessible to anyone over the age of 18, regardless of previous sailing experience. Included in the team entry price is:
Two days on the water big boat experience [either a Clipper 68 or 70]

Musto Technical top to keep, and use of Musto BR2 offshore jacket and salopettes

Food and drinks whilst on board, plus the additional hospitality events 

Take away on the water action photography package

Professional Race Skipper, First and Second Mates, berthing and insurance
A maximum of 12 participants can crew each yacht (not including the Skipper and First Mate) and a minimum of six. The price per yacht is £5,500+VAT. This works out as an average of £458 per person / £550 per person inclusive of VAT – on the basis of a maximum crew of 12 people. 
For more information and to book your team onto the Knox-Johnston Cup please visit here.