Clipper Events welcomed leadership and performance development company West Peak to facilitate a senior leadership team development day on board two Clipper 68 ocean racing yachts. 
West Peak creates safe yet challenging learning environments for businesses to increase performance, employee engagement, output, and staff retention. The West Peak team, utilising experience in the military, police and high-performance sport, works to deliver solutions to organisations that provide incremental enhancements in work performance, and personal flourishing that continues long after training.
Providing access to record-breaking offshore racing yachts with proven, highly experienced professional Skippers and Mates, Clipper Events engineered a day on the water to enable West Peak to deliver an immersive day of bespoke training to their client in a unique environment.
Ben Wade, is a Director at West Peak with a background in the RAF, bringing a unique angle to West Peak's consultancy. Speaking about working with Clipper Events, he said: "We have been helping a digital security company's senior leadership team for the past year. We wanted to get everyone away from the office to help enhance the team's existing trust, rapport and communication in a safe but challenging environment – and this was a great opportunity."
Autumnal days on the Solent can offer up a whole host of conditions, and the day did not disappoint. Some forecasted heavy weather gave way to a beautiful day with mixed conditions – complete with some wind, some rain and some glorious sunshine. The group arrived into Portsmouth Harbour and got on board the two Clipper 68s- racing yachts primed in the world's toughest ocean environments. After a safety briefing, the participants got stuck into a morning of sail training to learn the basic manoeuvres and aspects of sailing. After lunch, the teams went head to head for round-the-can racing on the Solent before returning to Portsmouth Harbour for a debrief.
Clipper Events caught up with Ben Wade at the end of the day to find out how it went: 
What were the conditions like and how did the teams respond?
It was a really successful event – we had a briefing yesterday where we asked people what their hopes and fears were. There was a lot of anxiety; nobody had been sailing before, especially not on boats this size, and the weather looked a bit rainy and windy. It was out of people's comfort zones. For us, that was great as it provides so many learning opportunities. At the end of the day, people's fears had gone and there were lots of smiles – we had a great day!
Why are employee recognition or team building days out of the office important?
I think team building is important in or out of the office- or even just to recognise that if you don't do it, you'll fall foul of people wanting to leave, and with people leaving, it'll cost commercially. If you do it, you'll reap the rewards in terms of communication, trust, leadership – with increased performance of the team, the individual, and the company too. 
What do you think of sailing as a team-building exercise? In regards to your learning, and development programs – have you done anything similar to this before? 
We tend to do land based activities but we have taken companies sailing before which is why we've come back. We primarily take courses into businesses but we have seen great benefit in coming outdoors away from the office, and we've started doing it more regularly. 
Will sail days/activities out of the office be something you continue to offer as part of your programmes?
I think sailing is great for a team building exercise – it's challenging, but also safe. Alleviating people's fears about going to sea, and it builds confidence, trust, rapport and communication, leadership, fellowship and teamship – it meets all the criteria we need to enable a high performing team, or to take a group to a team.
In regards to learning and development programmes, why is being on the water synonymous with West Peak's Partner's goals?
Our passion is developing people, and we try to do that in three ways: looking at leadership, fellowship and teamwork. On a boat, you have to be a great follower, a great team player and a great leader. These qualities are crucial for sailing and for high performance leadership so for us, being on the water is perfect.
Ben was joined by fellow West Peak directors Jo Murphy, who was previously a hostage negotiator within the Police, and Ben Stocken, whose background is in England Rugby as a professional coach and national trainer. We asked them about the experience…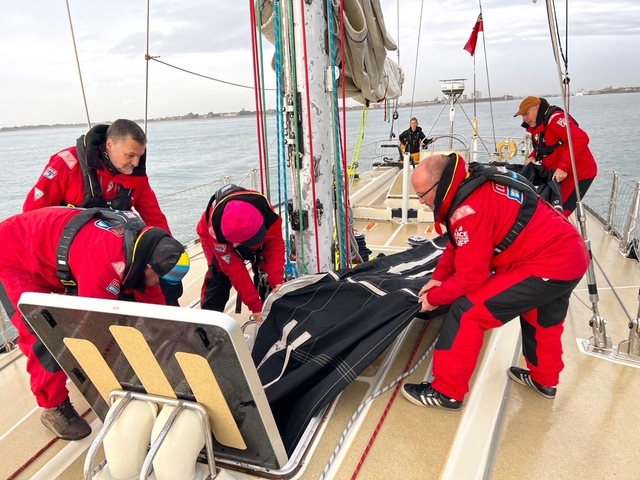 What were your highlights of the day?
Jo: My personal highlight of the day was seeing how everyone worked together doing something completely new, with skills they had not used before, and actually how the activity appealed to everybody. I have had an absolutely fantastic day. 
Ben: My personal highlight was the team learning how to tack the boat. After going through four tacks, we had one magical tack where nobody said anything at all and it was like a well-oiled machine, everyone in the right place at the right time doing the right thing. 
Would you recommend the day to other companies looking to do a meaningful team building day?
Jo: Absolutely, I would recommend Clipper Events as a team building exercise to take a group of our clients out – it's been amazing and we would definitely do it again.
Clipper Events creates an experience tailored to meet individual objectives and wants everyone to have the opportunity to experience the exhilaration of sailing on board an ocean racing yacht. Exploring boundaries, taking measured risks and team building are at the core of everything we stand for. The result is an unforgettable day focused on leadership and development. 
Enquire here about experiencing an experiential team day with a difference with Clipper Events.