The inaugural Knox-Johnston Cup was a beaming success last weekend, where participants were treated to sunny skies, good breeze and a weekend of training, sailing and socialising on the Solent. 
This unique weekend of sail racing was inspired by Sir Robin Knox-Johnston and organised by Clipper Events, with the aim of bringing fun back to big boat racing with no sailing experience necessary to get involved. The fifteen team entries consisted of corporate team entries, Clipper Race Alumni, future Clipper Race Crew, friends and family members, as well as those just wanting to give sailing a go and get involved in an epic race around the iconic Isle of Wight.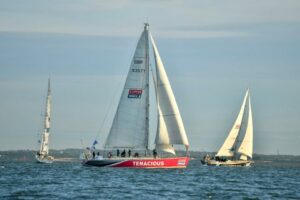 The weekend kicked off with a day of on-the-water training on Saturday, where the teams could get to grips with sailing on board an ocean racing yacht. With wall-to-wall sunshine and perfect conditions to practice their skills, enthusiasm was sky-high. 
Skipper of WTC Supporters Dan Jones, who had his family sailing on board for the weekend, said: "We've been on the water all day long, going through tacking, gybing, headsail changes and just getting everyone up to speed. This event is the first time racing a Clipper 70 for 90% of my guests on board, so obviously we can't race full speed as we would with our fully trained crew, but we'll lead them through it gently. We've got three staff on board, a Skipper, First Mate and Second Mate, guiding them around the Isle of Wight and making it as fun and competitive as possible.
"I think it will be very competitive tomorrow. With lots of ex-Clipper Race Skippers it will be another duel. We've all had a couple weeks off from sailing, and now we're really energised and rested after the Clipper Race. Certain teams will be more competitive than others, so it will be an interesting race!"
Speaking about the training, David Goldsmith, part of the Ambitious team said: "The Skipper, First and Second Mate were very capable and excellent instructors: supporting and encouraging. They ensured we all got to operate at all the stations including the helm which to my surprise, turns out it is one of my better skills. Soon I had leant a whole new vocabulary and was beginning to sound like an old sea dog!"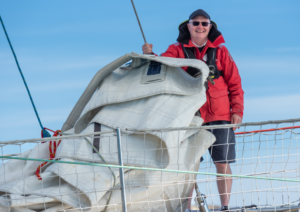 Following a day of training in the Solent, the fleet docked in Cowes on the Isle of Wight for sundowners provided by Powder Monkey Brewing Co, and the teams gathered at the Sugar Store for an evening of food, dancing and an address from Sir Robin. It was the perfect setting for former Race Crew to share stories of their ocean adventures, old sailing friends to re-connect and new friendships to be formed. 
Among previous Clipper Race Crew was Janine Corciulo and Susan Holcombe, who entered the Knox-Johnston Cup with friends and crew mates that they had met through the Clipper Race and deliveries. Speaking from the Saturday night event, Janine says: "Susan was my bunk buddy – she left me a chocolate in my sleeping bag every night and in return I sprayed essential oils for her. It's love! We met at Crew Allocation – we both got lost and went to the wrong team room." 
Susan, who raced as part of the Qingdao team in the Clipper 2019-20 Race, and sailed again on board her team yacht for the Knox-Johnston Cup commented: "I met Janine's husband at our training and he said 'I've met this woman you will get on so well with' and we have been great friends since – one of the closest female friends I've had."
Janine, who raced on board Spirit of Oban in the weekend's event continued: "I go to Susan's house at least once a month, keeping in touch after we sailed from London to Portimao, and Portimao to Punta del Este. We've made so many friends. I am so impressed the Clipper Race kept going and managed to finish and now we are all back together, it's been great fun."
Talking about why she chose to sign up for the Knox-Johnston Cup, Janine said: "I did a delivery from Oban for Our Isles and Oceans, and met a crew that I didn't know. Weather conditions were horrendous and we were a day late, but we all bonded. One of the guys suggested we enter the Knox-Johnston Cup because we'd all gelled so well, and so we did. It's mixed for me because I'm competing against Qingdao!"
The following morning, a stunning September sunrise provided the backdrop as the teams slipped lines from the docks to make their way to the start line off the Royal Yacht Squadron Flagstaff. A good breeze meant a fantastic start, there was certainly an air of competitiveness on the water, with plenty of individual friendly rivalries between the teams. Who would win the 'Battle of the Scots' between Spirit of Oban and Kerrera Marina? Would Qingdao keep their Clipper Race winning streak alive? Or with a number of teams made up of Clipper Race AQP family members, who would be the quickest of the First Mate families? Once the air horn was fired, the race was on and the teams battled it out in the route around the Isle of Wight.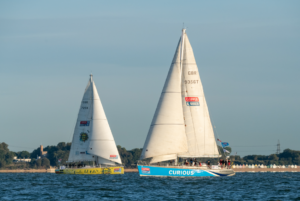 September sun and good winds made for the perfect conditions for all participants, no matter what their experience, to get stuck into sailing the racing yachts and compete for the trophy. The route provided plenty of opportunity for sail changes and both upwind and downwind sailing, creating a perfect learning environment for all the participants and plenty of close-matched racing for an exhilarating experience. 
Wrapping up the racing action, David Goldsmith (Ambitious) reported: "We had a great sail all the way to the Needles and wisely gave them a wide berth but once round the wind dropped for a while and became fickle, we were soon trading wind/tide and course. The wind picked up and we recorded 11 knots which was a first for me, we were racing along at a steep angle with some great sailing. Throughout the day we rotated so everyone got to experience everything, there were so many smiles we looked like an advert for toothpaste!
"Sadly, before we knew it the race was over, no podium position but loads of fun, we were all grinning from ear to ear."
Once the yachts crossed the finish line, it was back to Gosport for a prizegiving ceremony in the marina to crown the winners of the first ever Knox-Johnston Cup.
Laura Ayres, Head of Partnerships and Events at Clipper Ventures began proceedings, saying: "This weekend is about bringing people together, old friends and new, and enabling them to get out on the water and experience the thrill of racing on Clipper 68s and 70s – We have someone here from the 1996 Clipper Race and people who have  signed up for the 2025-26 race – a 30 year legacy right there. Thank you to the sailing staff, they've been incredible and this event wouldn't have been what it is without them."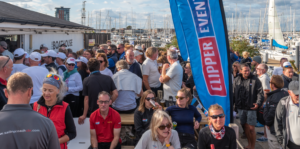 Before announcing the results of the race, Laura invited each of the Skippers to award someone from each team the 'Spirit of the Knox-Johnston Cup' award who has made a great contribution, lifted the spirits, brought the team together and generally gone above and beyond to make the weekend a great experience for everyone. 
Adrian Davies from Paragon, who sailed as part of a corporate team entry in the event commented on the event: "Absolutely fantastic day on the water with the Clipper Events team. Great communication prior to the day, providing full flexibility to make sure the day was tailored to our needs. The crew on the day were superb – engaging, knowledgeable and made us feel very welcome. Will definitely be back!"
As the weekend drew to a close, teams enjoyed food and drinks as the sun set and reflected on an epic weekend out on the water. 
Find out more about Clipper Events' iconic races, corporate sailing days and more here.